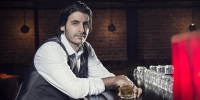 The Liquid Muse, LLC / New Mexico Cocktails & Culture
The Hustle: From Behind Bars to Your Dream Gig
Time: 1:00pm Day: Friday Doors: 12:30pm Ages: 21+ Ages
This Event Has Ended
Eric "ET" Tecosky is living proof that you can have your cake and eat it too. He has turned a career behind bars into all the dream jobs he has ever wanted - He owns his own company - www.DirtySue.com, He is the Brand Ambassador for his favorite liquor, Jack Daniel's, He own a U.S. Patent - TheSeatSaver.com and is a partner in neighborhood bar in Brooklyn - The Church Bar. Part of this seminar will be hearing ET's journey from bartender to business owner and brand ambassador including how to go from idea to action to (hopefully) making money. The other part will describing what NOT to do and finally he will answer any question you may have while planning your own dream gig - from business plans to investors and everything in between. He may even tell the story of how he invented the Surfer on Acid...
Ticket includes drink samples and light snacks.
$20 to the public.
$15 to SERVERS CARD holders or USBG MEMBERS from any state. Must show proof at door.
Must be 21+ years of age. Strictly enforced. ID checked at door.